My Top Tips & Recommendations for Your Business
Meagan helped us set up effective internal & external reporting dashboards - which were part of the reason we switched to ClickUp in the first place! She quickly grasped our needs, then showed us a variety of reporting options and helped us understand the pros & cons of each, how to set it up, etc. Working with Meagan also gave us a better understanding of settings and notifications in ClickUp and allowed us to set up views that were much easier for our team. We'll definitely be going back to her with any questions that arise in the future!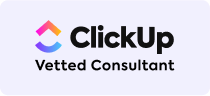 Your business + my expertise in ClickUp = more time for you to work in your zone of genius and less time on trying to remember who you were supposed to contact today or emailing your content team to ask for update. It's all right there for you in ClickUp!

Getting everything out of your head frees up space for new & exciting ideas to develop!
I have helped many small business owners, solopreneurs, and agencies use ClickUp to run their businesses and personal life. ClickUp is a flexible and robust project & task management tool with new features being added all the time. It can be overwhelming when first getting started, or maybe you've gotten it set up a bit but still feel like it isn't working as you wish. I can help you achieve optimal efficiency for your business and personal life by working with you to improve the structure of your ClickUp, show you which features you should use and how to adjust the settings for your business,
Project Management Using ClickUp
"We struggled with transferring our projects and templates out of our old project management into ClickUp. Then we met Meagan who was able to take our existing information, help us reformulate it for ClickUp and while doing that increase our efficiency as a team."
Have questions or ready to book a session?
Schedule a free initial consultation to learn more about working with Meagan of New Leaf Digital on your ClickUp or Project Management.