ClickUp has a variety of features that will help you communicate more effectively and stay on top of your projects and tasks. Some of these features are not so easy to find. This article will show you how to use these helpful ClickUp features to enhance communication and productivity among your team.
1. Marking Up PDFs
Every team has PDFs or graphics of some sort that are shared between team members and require feedback or approval. ClickUp's mark up or proofing feature makes it easy for you to give feedback on a pdf or image without the annoying back and forth in email or Slack.
To use this feature, simply add a PDF, screenshot, or image to your task. Click on it to enlarge it and you'll be able to make comments on specific parts of the image. You can use this feature for marking up designs and providing feedback, pointing out points of docs to be changed.
To add your comment, first open a particular task, click on 'Add Comments' in the upper right of the preview window. Then click on the attachment preview and write your comment. It will appear in the comments column next to the attachment.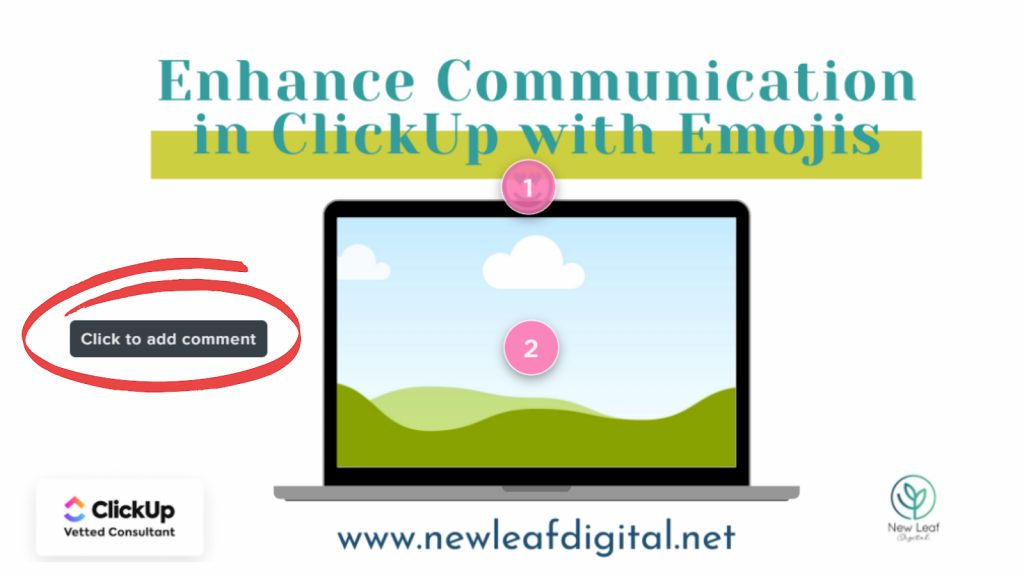 2. Favorites
Keep your favorite items in ClickUp close by adding them to your favorites. Your favorites are only visible to you. You can add a task, list, folder, space, view, or doc as a favorite. This is great for frequently accessed project folders, lists related to an upcoming launch, a task that you need to track time on, a doc you always reference, or your lead tracking list.
To add an item to your favorites, go to the settings menu, click add to favorites, give it a name. You can drag your favorites rearrange them. I highly recommend keeping your favorites pinned so it's visible at the top of your screen instead of hidden on the side.

3. Assigned comments
Assigned comments are like mini-tasks. They don't warrant their own task or a subtask but they are action items that need to be completed. To assign a comment, click the person image in the comment bar and choose who you'd like to assign it to. You can even assign comments to yourself. I do this as a way to remind myself to complete follow-up mini tasks.
If you have the incomplete warning ClickApp on, you'll get a warning message when you try to complete a task that has an unresolved assigned comment. Assigned comments show up in your notifications and in your Home. 
When a comment is resolved, the person who created it gets a notification too. Plus, in the list view you can see an icon that indicates the task has an unassigned comment.
This is a great way to assign follow up action items after a meeting so that you can make sure those "let me check on that and get back to you" items don't fall through the cracks.
4. Workspace Points Dashboard Widget
The workspace points dashboard widget is a good way to see who is actively working in ClickUp – and getting stuff done! To add this widget to your dashboard, inside a dashboard click "Add Widget" and go to tables and click "workspace points". Select the location and date range and add any filters you may need.
You can see how many cleared notifications, comments added, resolved comments, tasks completed, items worked on and total points. Click calculate at the bottom to see the sum, average or range.

You can use this to set productivity goals for your team and crown the person who has the most points at the end of the month as the ClickUp Queen!
5. Show Location
The number one question that people as me a vetted ClickUp consultant is how they can see what list a task belongs to. They come up with creative ways to solve this problem – using initials, dropdowns, labels. More often than not, simply switching on "task location" in the view settings solves the problem!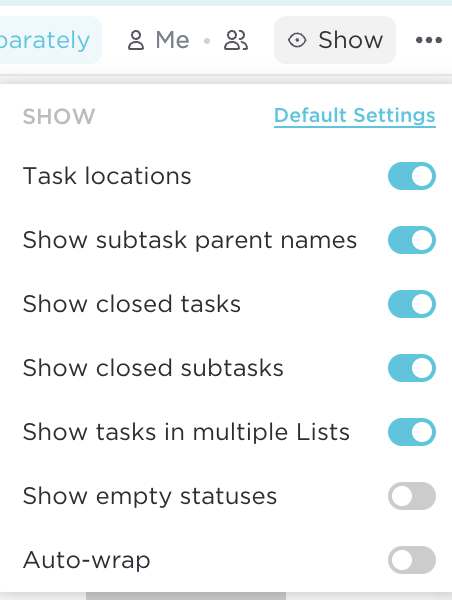 Initially, your list might look like this. Your tasks might seem jumbled, cluttered, or even unorganized. You can change this by clicking on Show Task Location and witness the order it brings to your tasks.

Now it's much easier to see which list and folder the tasks belong to. This is great for your Client Management Space.

By using these exciting features in ClickUp, you can make communication and project management a lot easier!
Get customized tips and tricks during a ClickUp Consulting Call