Did you know that you can enhance your communication in ClickUp in a simple way that is fun, efficient, and useful????? Yes, you guessed it right — through emojis!???? There are many ways in which you can use emojis in ClickUp to help communicate in a light-hearted yet effective way. As a vetted ClickUp Consultant, I use emojis in my own ClickUp and teach my clients to do the same. Here are some of my favorite ways to use emojis in ClickUp.
For Action Tasks ????
You can use emojis in your tasks to specify the desired action. For example:
You can include arrow marks ???????? to indicate "click that" when it comes to opening a link
You can use computer emoji ???? to show that a task is about emails
For List, Folder, And Space Names ????
Be creative and fun in naming things in ClickUp. Provide a visual clue for your team members so they can quickly and easily see what is what.
To show that a list is for clients you can add a ????.
To show that a list is for applications you can add a ????.
To Respond To Comments ????
You can 'like' ???? comments as a metaphorical nod to show that you have read a comment or to acknowledge it. You can also add reactions ???????????????????????? to the comment so your response seems more lively and spontaneous.
To Show Document Statuses ????
Another way to use emojis to simplify your work is by adding them to your doc names to specify their status. For example:
To show that a particular doc is still in progress, you can add a ✎.
To show that a doc has been completed, you can add a ✅.
To show that you need to add a recording to a doc, you can include ????️ or ????.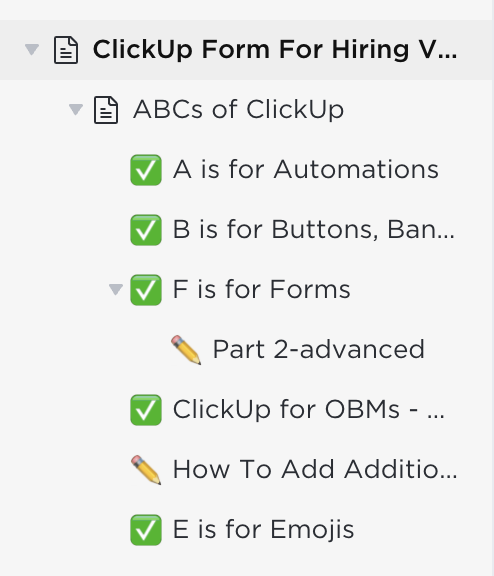 Keep In Mind ⚠️
While emojis can make communication easier and simpler, it is essential that your team are aware of their meanings and implications — especially when it comes to using the emoji system for document statuses. Make sure you educate your team and create a standard operating procedure (SOP) for emoji use so it is consistent.
Emojis And Their Meanings ????
Here are some emojis and their general meanings.
???? may denote "Well done". You can use this to congratulate someone on successfully completing a task.
???? may denote "Thanks". You can use it to thank someone who does you a favor or fulfills a request.
???? may denote "I love it". You can use this when you love someone's work or suggestion.
???? may denote extreme pleasure. You can use this when you are very happy with someone's work.
???? may denote "Good job". You can use this when you want to congratulate someone.
???? may denote "Yay". You can use this to respond to celebratory news.
Next time you use ClickUp, do not forget to include emojis in your tasks!????
Need help with your ClickUp? Book a Kick Off Call with me today to get your ClickUp in order.