This post may contain affiliate links and I may earn a small commission when you click on the links at no additional cost to you.
Are you struggling to find time for your weekly newsletter? Let ClickUp and your virtual assistant (VA) come to your rescue. In this guide, we'll walk you through the process of using ClickUp to outsource your newsletter tasks, enabling you to focus on other important aspects of your business. By the end of this article, you'll have the tools and knowledge to streamline your newsletter and ensure its success.
A weekly newsletter is a great idea to keep you top of mind with your audience but with all of the other hats you're probably wearing, you don't have the time or bandwidth to put one out.
With a little bit of forethought and prep in your ClickUp workspace, your virtual assistant can have your entire newsletter up and running fast – and it will still sound like you wrote it! Here's how to do it.
Have a Clear Vision for the Newsletter
Before outsourcing your newsletter, it's crucial to have a clear vision and goals in mind. Defining your objectives help you guide your virtual assistant (VA) in creating engaging content that resonates with your audience.
Consider the following questions:
What is the primary purpose of your newsletter? Is it to inform, educate, or promote?
What types of content do you want to share? Will it include articles, tips, updates, or promotions?
How often do you want to engage with your audience?
What actions do you want your audience to take? Do you want them to visit your website, purchase a product, or engage with your social media?
By clearly communicating these objectives to your VA, you'll ensure they can deliver a newsletter that aligns with your vision and achieves your desire outcomes.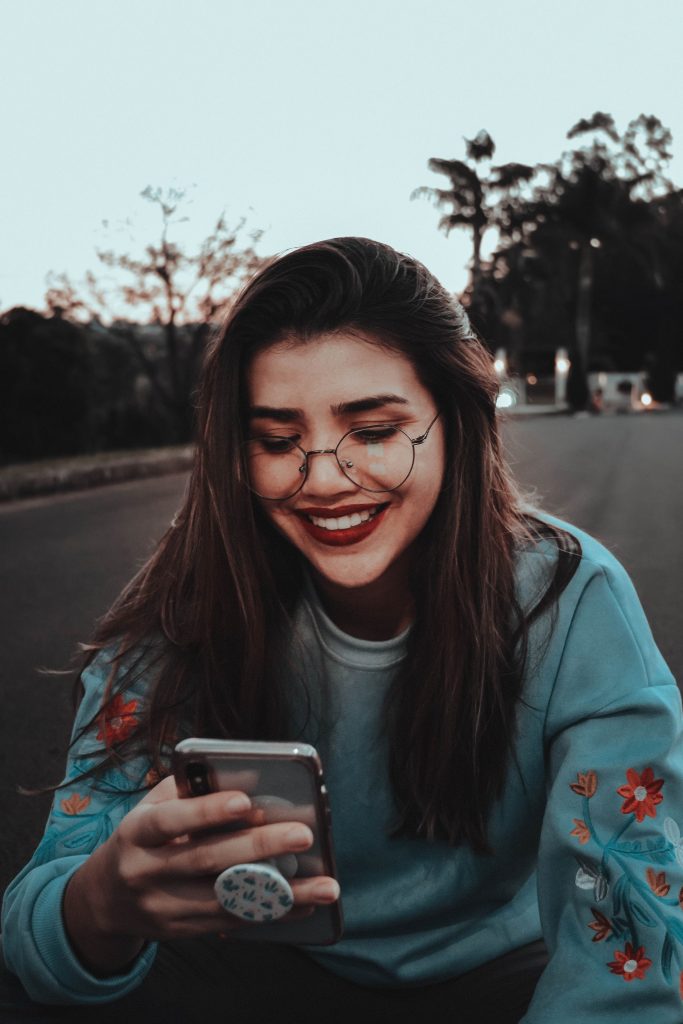 Set Up Your VA in ClickUp
ClickUp offers an ideal platform for organizing and tracking your newsletter tasks efficiently.
It is great for setting up content based projects because it allows you to easily track what is being worked on, how much progress has been made, and stay on top of any feedback and requests along the way – all while keeping communication streamlined in one place. With a solid setup in ClickUp, your VA can batch all of your content with ease.
Here are two recommended approaches for setting up your VA in ClickUp.
Approach 1: A Newsletter List
Creating a LIST in ClickUp for your newsletter allows you to manage each topic as an individual task. This approach provides clarity and will help your VA stay organized throughout the content creation process.
Start by setting up a list titled "Weekly Newsletter Topics". Within this list, create tasks for each newsletter topic.
Keep your statuses simple: not started, in progress, complete. Use a dropdown custom field for the stages of the content progress like Writing, Graphics, Review, and Scheduled.

Having an entire list for your newsletter is a good approach if you send out more than one email a week or want to have specific custom fields in use in your newsletter list, such as those mentioned above.
A Single Newsletter Task with Attached ClickUp Doc
Alternatively, you an streamline your workflow by setting up a single recurring task in ClickUp called "Batch and schedule weekly newsletters". Within this task, attach a ClickUp Doc called "Weekly Newsletter Content." This document will serve as a central hub where your VA can create and manage all the newsletter content.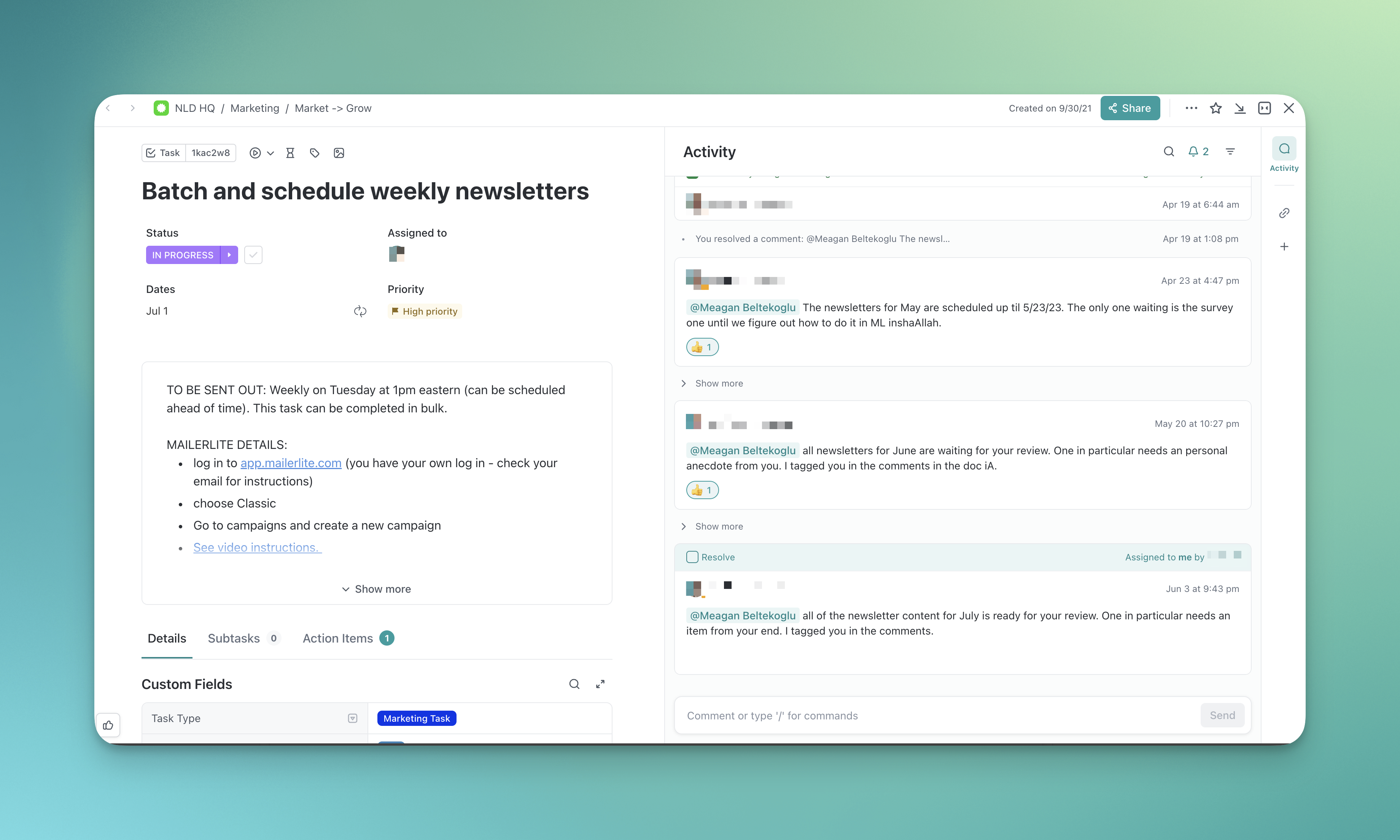 The advantage of this approach is that ClickUp Docs allow for seamless collaboration, with features such as comments, graphics attachments, assigned comments, and the ability to use emojis to represent the status of each email. I use a Pause Button emoji for items that need to be held back, an Arrow for items that have been written and are ready for review, and a Green Checkmark for emails that have already been scheduled in my mailing system.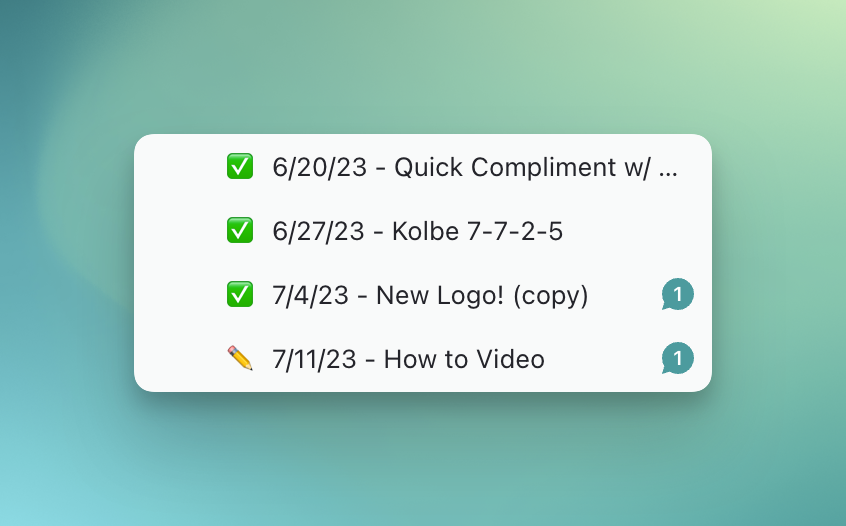 This systems lets my VA and I communicate easily about the content as needed without setting up a bunch of new tasks (because who really needs more tasks in their workspace?!).
Provide Resources for Your VA
To ensure your VA has the necessary information and resources to create compelling newsletters, it's essential to share relevant materials and establish clear communication channels. Consider the following steps:
Document Key Resources: Compile blog posts, website links, service offerings, testimonials, special announcements, awards, and other relevant materials into a shared ClickUp list. This centralized resource bank will provide your VA with easy access to the information they need.
Clarify Brand Values and Voice: Share your brand guidelines, including tone, style, and key messaging points, with your VA. This helps them align their writing with your brand identity and maintain consistency in your newsletters.
Establish Communication Channels: Set up regular check-ins or use project management features within ClickUp to stay connected with your VA. Clear communication ensures that any questions or clarifications can be addressed promptly.
By providing your VA with the necessary resources and establishing effective communication channels, you empower them to deliver high-quality newsletters that resonate with your audience.
Email Training
To ensure your VA can effectively handle the mailing system, provide them with a comprehensive training session. Consider the following steps:
Choose a Mailing System: Select a user-friendly mailing system such as MailerLite for its ease of use and intuitive interface. Familiarize yourself with the system's features before training your VA.
Create a Training Tutorial: Develop a brief tutorial video or written guide using Tango.us that covers essential tasks within the mailing system. Topics to include are creating campaigns, selecting subscriber lists and tags, creating and saving templates, drafting, reviewing and testing content, and scheduling newsletters for publication.
Walkthrough with Berrycast: Utilize Berrycast or a similar tool to record a live walkthrough of the mailing system. This allows your VA to follow along with the tutorial video, ensuring they understand the process and can navigate the system confidently.
By providing comprehensive email training, you equip your VA with the necessary skills to manage your mailing system effectively, saving you time and effort.
Content Ideas
Creating engaging newsletter content is crucial for keeping your readers interested and involved. Consider the following approaches to generate fresh ideas for your newsletters:
Utilize Newsletter Templates: Instead of writing newsletters from scratch each week, my VA and I make use of Liz Wilcox's Email Marketing Membership. For only $9/month, Liz has a huge library of newsletter templates that are easy to customize for your business, no matter what type it is. These templates save time and provide a starting point for creating compelling newsletters.
Leverage ClickUp's Outsourcing Capabilities: Combine the power of ClickUp's project management features with the Email Marketing Membership templates. By leveraging both tools, you can effectively outsource your email newsletters, streamline your workflow, and ensure consistent content delivery.
Conclusion
Outsourcing your weekly newsletter tasks to a virtual assistant is an efficient way to maintain regular engagement with your audience while freeing up your time for other business priorities. ClickUp's project management capabilities, combined with effective communication, resource sharing, and comprehensive training, empower you to successfully outsource your newsletters. By implementing the strategies outlined in this guide, you'll be able to streamline your newsletter production process, save time, and deliver engaging content to your subscribers.
Need help setting up a system in ClickUp to outsource emails (or another task)? Reach out to us today for help.